About us
Ganpathy Alloy Castings is a name of quality durability and satisfaction. We have made tremendous development in manufacturing of Rolls and have achieved greatest glory in this field. Our technical staff is always endeavoring to achieve the superb quality. The rolls are dispatched after tremendous quality checking. The service after sales is our prime motto.
We are supplying our Rolls to most reputed semi and fully automatic mills in INDIA and abroad. Our Ganpathy Alloy Castings have inexhaustible reputed company on the array of our customers. The director of the company keep personal contact with the buyers to have first hand knowledge.
Ganpathy Alloy Casting Established in 1987, has been dedicating all its efforts to promote the new techniques for casting like DPIC Chill Rolls, Adamite Rolls, Definite Shafted Rolls, S.G. Iron Rolls, Indefinite Chill Rolls, Forged Rolls, Bearing Chowks for Automatic & Semi Automatic Steel Re-Rolling Mills. The Company is situated at industrial Area-B, Malerkotla (Punjab). A historical city having regard for communal harmony.
Quality Assurance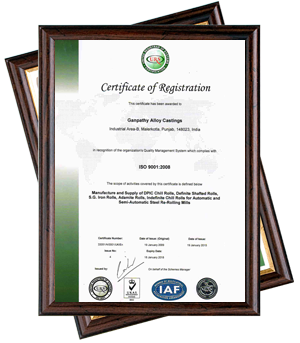 Quality Management forms the core focus of the company. Thus, keeping this as the prime we manufacture all the products in unity to the ISO Certified standards. Our well-integrated quality management mechanism begins from the purchasing of quality supply, assembly, production, inspection and testing functions till the final products are dispatched in the market.
Regular quality checks, through testing of rolls during each stage of manufacturing - casting, machining or finishing is carried out. Microprocessor based equipment is installed for testing of the composition, hardness and dynamic balancing of rolls. The data generated is stored and analyzed regularly. These steps ensure that all rolls are uniform in hardness, chill depth, adequate ductility, high wear resistance and consistency of the hardened layer, ensuring that the rolls we supply meet the stringent quality requirements of our valued customers.
Research & development

The R & D team is the best strength of Ganpathy Alloy Castings, because of them Our Company is able to serve perfectly. We have a good team in R & D. All are best with their duties and giving the satisfactory result to industries. With the help of them we serve a Brand to Industry.
Distribution Network
Our Company is serving throughout the India and Foreign Countries Also. Our distributers are pounding to be the part of Ganpathy Alloy Castings they are serving with their best services to our customers.